Town Clerk's Office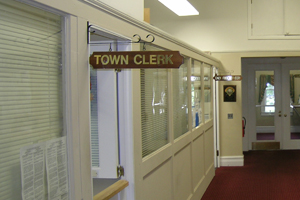 34 Fifth Avenue Town Hall
Pelham, New York 10803
Phone: (914) 738-0777
Fax: (914) 813-1842
Email: [email protected]
Office Hours: Monday-Friday, 9:00 am-4:00 PM
Appointments available upon request for Marriage License
The Town Clerk is an elected official and serves for a term of two (2) years. The Town Clerk is charged with custody of all legal records, books and papers of the Town and is responsible for the recording of all of the Town Board's Proceedings and decisions. In this regard, the Town Clerk's charged with publishing items tobe considered by the Town Board during its meetings and is charged with posting all notices required by law.
The Town Clerk supervises all town wide general elections, primaries related to those elections, conducted in the Town of Pelham pursuant to applicable laws. Applications for absentee ballots, and voter registration forms are available in the Town Clerks Office.
The Town Clerk also serves as Registrar of Vital Statistics, which includes records of Marriages, birth, deed records as early as 1860. Current birth & death records are kept in the Village of Pelham and the Village of Pelham Manor.
The Town Clerk's office also issues Marriage licenses. It is necessary to make an appointment to obtain a Marriage license. (9:30 AM - 3:30 AM Monday - Friday) Please call (914) 738-0777.
The fee for a Marriage license is $40.00.
Marriage Transcripts are $10.00.
Click here to print out application.
Disabled parking permits are available for Village of Pelham Residents at the Town Clerks office. The requirements for this permit (1) must be a Village of Pelham resident, (2) a completed application, (3) a letter from the doctor.
Click here to print out Application.
Dog Licenses are available at the Town Clerks Office for Village of Pelham residents. The requirements for the license are (1) Village of Pelham Resident, (2) updated paperwork on dog, which should include current rabies information and proof of neutered/spayed, (3) Owners I.D.
The fee for a dog license is $16.00 (neutered/spayed)
$23.00 (unaltered)
$5.00 for a lost tag.
Click here to print out application.
****
Pelham Manor Residents must go to Village of Pelham Manor (Village Clerk at 4 Penfield Place) to acquire a Disabled permit and/or Dog license. If you have any questions please call (914) 738-8820.
****
If you are a new voter, have moved since the last election, or wish to change your registration you may do so by visiting the Town Clerks office.
Town Clerk,
Antoinette Clemente